Your Facebook VIP Bio serves as a digital business card that reflects your personality and interests, leaving a lasting impression on those who view your profile. Crafting an impressive Facebook VIP account bio is crucial for anyone who wants to stand out, whether you are a social media influencer or a business professional.
Creating a memorable VIP bio depends on using strategic keywords. These keywords define your identity and make it easier for people to find you. Whether you're building your personal brand, promoting your business, or expressing your passions, we'll explore how to incorporate the main keyword that best represents your online presence.
In the world of social media, attention spans are short. Therefore, your Facebook VIP bio should be brief. We are providing you with 900+ stylish Facebook VIP bio, you can select one of them as per your choice.
Now, you can click on the copy button located at the top right corner of this text or simply select the text and copy it. Start crafting your Facebook VIP bio today and see your Facebook profile come to life in a way that truly reflects your personality and captures the attention of your audience! Let's get started!
You may also like:
◥◣◥◣★◢◤◢◤




◥▔◣◢☬◣◈◢☬◣◢▔◤




➽—💙Bad Boy❤️—➽




◢▂◤◥☬◤◈◥☬◤◥▂◣




◥◣◥◣★◢◤◢◤





█║▌│█│║█║💯 Vip Account ✔️




Khalnayak 😈 Boy🐦




👑LOOFAR

_

GANG




🎃 kalyug ka रावण👑




😍 My crush 😍




❌

Not

 available in the World 🌎
Official Account 🔥




Hot DuDe 😎




Devil mind 😜




Little cute 😝




Little smart😬




Hacker Boy 🕴️




wAnnA be A viLLain😈
❴♦️❵ ▬▬▬▬▬▬ ❴♦️❵




◢♂◣




◢♂◣




◢♂◣




◢♂◣




▉◣▉◢▔◣▉┆▉




➽—💙Mahakal❤️—➽




▉◥▉▉┆▉┆▉┆




◢♂◣




◢♂◣




◢♂◣




◢♂◣




❴♦️❵ ▬▬▬▬▬▬ ❴♦️❵
Facebook VIP Account Bio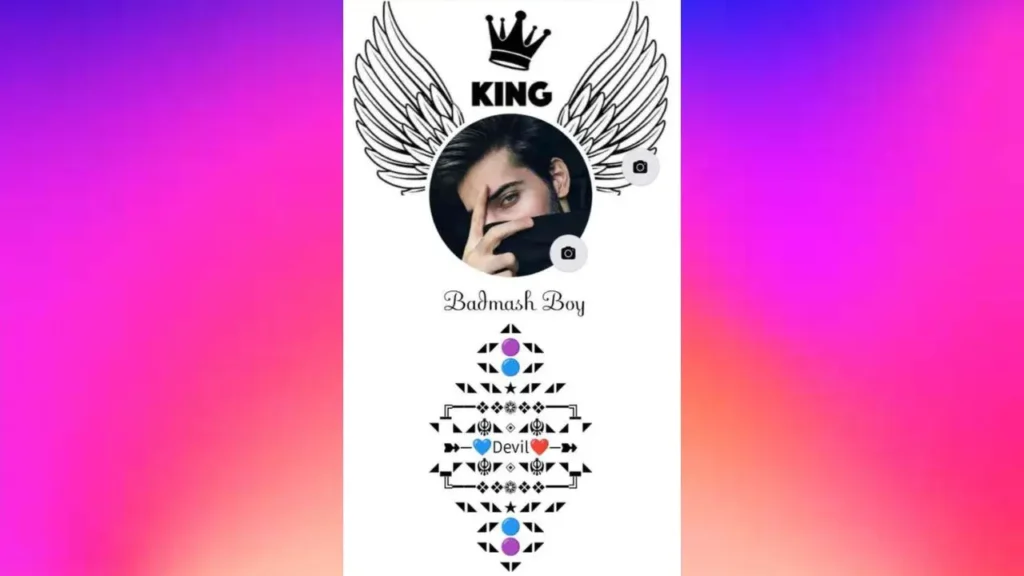 ♥️❖❖❖




♥️❖❖❖




♥️❖❖




♥️❖




❖♥️




❖♥️




❖❖♥️




❖❖❖♥️




❖❖❖♥️




❖❖♥️




❖♥️




❖♥️




❖♥️
▌│▌║││█║ Official Account ©




↪ωειςοмε🙋




↪Frm

-

MH

-

20

😎




↪Photogenic📷




↪Cricket Lover🏏




↪Big fan of Akshay 💪




↪Single👤😂
》▪Mr

.

Perfect😎




》▪

First

 Cry 

On

 Oct 

7

😭




》▪Single ☺️




》▪Student Of Commerce👔




》▪Music Lover🎶




》▪Pizza Lover🍕
♦️




◢◣◢◣




◢▇◣◢▇◣




♦️▇▇◣King◢▇▇♦️




◥▇▇▇▇◤




◥▇▇◤




♦️
◢◣




◥❤️◤




❖




🖤🖤✿❤️❤️




🧡❤️💙🖤💛




༒༒༒༒༒༒




,

•'"'•

,

•'"'•

,




'•

,

`

 ❤ 

`

 •'




`

'•

,,

•'

`




༒༒༒༒༒༒




🧡❤️💙🖤💛




🖤🖤✿❤️❤️




◣★◢




◥◤
✦▄══▄🌹▄══▄✦




◢◤♦◥◣




◥◣♦️◢◤




♦❖♥❖♦❖♥❖♦




🔴Attitude Boy🔴




♦❖♥❖♦❖♥❖♦




◢◤♦◥◣




◥◣♦️◢◤




✦▄══▄🌹▄══▄✦
█║▌│█║│█║™ 🟦 V

.

I

.

P Account ©




👰 QUEEN

_

KA

_

KING 👑




🛡 řulîng from 

25

_

Jan 🛡




💯Relationsheep💑

:-

 OnE

_

SiDeD💯




📷 Photo😎Holic™ 📷




🎨aDOBE life ♥




۞ Survivor ۞
▌║││█║™ 🟦 Official Account ©




Mumma papa's Rinku




Music student 🎶🎶




Future singer 😘😍❤🎶




Nature's lover 😘😍😘😍




18

th Sep 🎂 my b'day
█║▌│█│║▌║││█ V

.

I

.

P Account ©




❣️》MR

.

 Prince ♥️




❣️》Royal Attitude 😎




❣️》Music Lover💓




❣️》Gym Addict ❤️🥰
◢◣




◢◤🖤◥◣




◥◣🖤◢◤




◥◤




❖─❥💙❥─❖




╔━━❖❖☬❖❖━━╗




◆❖☬❉JOkEr❉❖☬◆




╚━━❖❖☬❖❖━━╝




❖─❥💙❥─❖




◢◣




◢◤🖤◥◣




◥◣🖤◢◤




◥◤
♦️




♦️▇▇♦️




♦️▇▇▇▇♦️




♦️▇▇◣💫◢▇▇♦️




♦️▇▇◣Queen◢▇▇♦️




♦️▇▇◣💫◢▇▇♦️




♦️▇▇▇▇♦️




♦️▇▇♦️




◥♦️◤
◢◣




◢◤☣◥◣




◥◣❤◢◤




✦▄══▄🌹▄══▄✦




✦▄💛☢💛▄✦




✦▄▄▄▄💙KiNg💙▄▄▄▄✦




✦▄💛☢️💛▄✦




✦▄══▄🌹▄══▄✦




◢◤❤◥◣




◥◣☣◢◤




◥◤
VIP Account Facebook Bio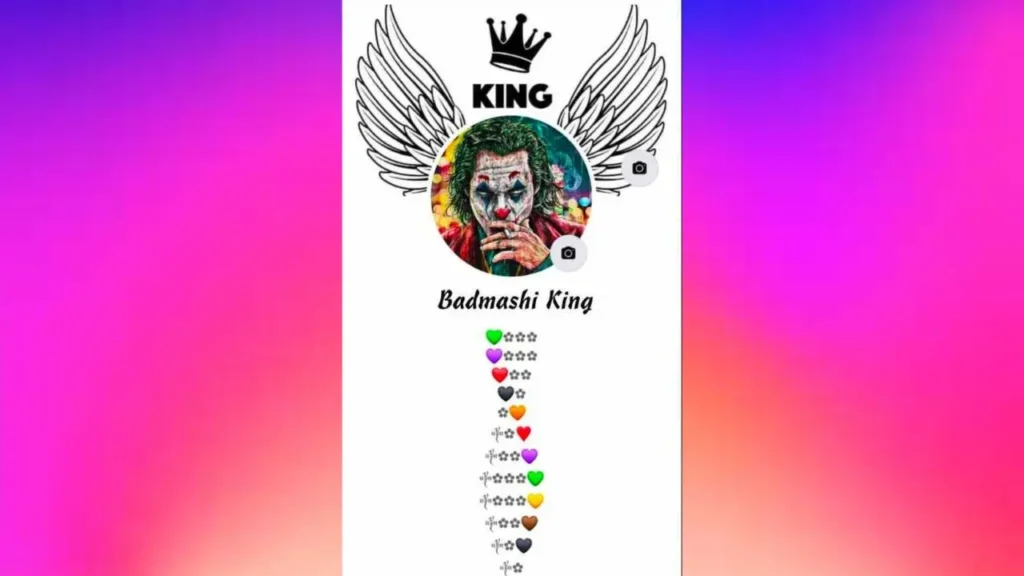 ◆❃◆🎲◆❃◆




◢◣




◢◤◥◣




◢◤♦️♦️◥◣




🔴————🔴




🟡――🖤――🟡




⚏⚏⚏☸⚏⚏⚏




⚏⚏⚏☸⚏⚏⚏




⚏⚏⚏☸⚏⚏⚏




●❯───────❮●




●❯───────❮●




●❯───────❮●
♦️




◢♦️◣◢♦️◣




◢♦️▇◣◢▇♦️◣




♦️▇▇◣❤️◢▇▇♦️




◥♦️▇▇▇▇♦️◤




◥♦️▇▇♦️◤




◥♦️◤
👉Smart

_

since

_

22

JaN 🎂




👉LiFe

_

Style

_

बेफीकरा 👓




👉

G

@

mer 🎮 F00die 🍔




👉LiFe

_

DSLR 📷 Musi© l0veR 🎧




👉Bike

_

©

@

r 🏍 Lover 🏂




👉Mom

&

Dad 👪 Son 👷🏻
♥️▦═══████═══▦♥️




╔━━❖❖❁❖❖━━╗




◥▔◣◢☬◣◈◢☬◣◢▔◤




➽—💙Badmash boy❤️—➽




◢▂◤◥☬◤◈◥☬◤◥▂◣




╚━━❖❖❁❖❖━━╝




♥️▦═══████═══▦♥️
🚩रॉयल हिन्दू🚩




😊fєєl देशी lívє विदेशी




🎂 प्रकट दिवस 

18

 JULY 🎉





👺भक्त हनुमान का💀




🙏दीवाना महादेव का😘




💪 HaMaRa Ņ

@@

M ही काफी
╱╲




│♦│




│♦│




│♦│




│♦│




│♦│




│♦│




│♦│




◢███◣




◥▔◣◢☬◣♦️◢☬◣◢▔◤




◢▂◤◥☬◤♦️◥☬◤◥▂◣




◥███◤




██




██




◥█◤
♔Official account




😎SînGle




👍LoGin In The World 

31

 Jan🎂




👔Simple Boy




🏍📸 hØlîC




♍

I

'm not Rich ßut 

I

'm Royal 👑




👍Live📿Laugh😊LoVe❤




👕

White

 Lover
◢ ◣




꧁◥⭕◤꧂




꧁◥♦◤꧂




꧁◣◥◤◢꧂




╭◥🔰🔰◤╮




꧁◥◣♦️◢◤꧂




꧁◥◣♦️◢◤꧂




꧁꧁◥◣◥◣★◢◤◢◤꧂꧂




꧁꧁♡♥♡♥♡♥♡♥♡꧂꧂
Colourful Facebook Vip Bio
꧁❪█♥️🔵⚫🟢♥️⚀█❫꧂




꧁◥◣♦️◢◤꧂




꧁♦️⛓♦⛓♦️꧂




꧁♦️Bad Munda ♦️꧂




꧁♦️⛓♦⛓♦️꧂




꧁◥◣♦️◢◤꧂




꧁❪█♥️🔵⚫🟢♥️⚀█❫꧂
❤ VIP Account ❤




😈 Devil Boy 😈




💪💪Gym Freak💪💪




🎂 

28

 December 🎂




👉

I

 Hate Love 💔
╭──────•◈•──────╮




◢◣




◢◤◇◥◣




◥◣◇◢◤




◥◤




▇▇▇▇▇▇▇▇▇▇




●Khalnayak●




▇▇▇▇▇▇▇▇▇▇




◢◣




◢◤◇◥◣




◥◣◇◢◤




◥◤




╰──────•◈•─────╯
█║▌│▌║││█║ VIP Profile🌹




➡Reserved person🙂⛔




➡Mr

.

Perfect😎




➡

First

 cry on oct 

17

🎂🚼




➡Music addict🎧🎹




➡Friendship Goals👈
🔵♦️————♥———–♦️🔵




✺✶╬▤╬KILLER╬▤╬✶✺




✺✶╬▤╬♦️♦️♦️╬▤╬✶✺




✺✶╬▤╬Bad Boy╬▤╬✶✺




✺✶╬▤╬♦️♦️♦️╬▤╬✶✺




✺✶╬▤╬Arya╬▤╬✶




🔵♦️————♥———–♦️🔵
अपनाटाइमशुरु(

20

_

may🎂)




काम

_

Heropanti😎




शोख

_

FLIRTing😉




हूनर

_

Addicate

_

krna👈




जुर्म

_

Love💓




सजा

_

Kisi

_

Ki

_

KhwAHIS🙇




प्यार✖️✖️
◢◣




◢◤❀◥◣




◥◣☸◢◤




◥◣◥◣★◢◤◢◤




❖ ──── ❖




❖─☸☸─❖




❖─♡️⏤͟͟͞͞★ᏦᎥᏁᎶꗄ♡️─❖




❖─☸☸─❖




❖ ──── ❖




◥◣◥◣★◢◤◢◤




◢◤☸◥◣




◥◣❀◢◤




◥◤
█═══█💢██💢█═══█




╔━━❖❖❁❖❖━━╗




╠━✫✫━❥🔷King🔷■✫✫━╣




╚━━❖❖❁❖❖━━╝




█═══█💢██💢█═══█
🖤――💞VIP💞――🖤




🖤➖ हर हर महादेव ➖🖤




❄️ भारत मां की जय ❄️




▪️ Army Lover ▪️




👊 Gym Freak 👊




🔅 Mastermind 🔅




👤 Single 👥




😭 Frist cry 

:

24

 May😭
Facebook Bio Symbols
💚✿✿✿




💜✿✿✿




❤️✿✿




🖤✿




✿🧡




༒✿♥️




༒✿✿💜




༒✿✿✿💚




༒✿✿✿💛




༒✿✿🤎




༒✿🖤




༒✿
⚀▇▇☆🔵☆▇▇⚀




◢◤⛤◥◣




◥◣⛤◢◤




⚀▇☆☆▇⚀




⚀━❖✥◈✥❖━⚀




●Mr Perfect⚀●




⚀━❖✥◈✥❖━⚀




⚀▇☆☆▇⚀




◢◤⛤◥◣




◥◣⛤◢◤




⚀▇▚▚▚▚▇☆❤☆▇▚▚▚▚▇⚀
⚀▇▇☆🔵☆▇▇⚀




◢◤⛤◥◣




◥◣⛤◢◤




⚀▇☆☆▇⚀




⚀━❖✥◈✥❖━⚀




●Mr Perfect⚀●




⚀━❖✥◈✥❖━⚀




⚀▇☆☆▇⚀




◢◤⛤◥◣




◥◣⛤◢◤




⚀▇▚▚▚▚▇☆❤☆▇▚▚▚▚▇⚀
◢▔▔▔◣🖤◢▔▔▔◣




◣╱╲◢




◣🔘◢




◣🔘◢




◣🔘◢




◣🔘◢




◣🔘◢




◣╱╲◢




◣◥⭕◤◢




◥🟢◣◢🔴◣♴◢🔴◣◢🟢◤




🖤♦️🔴♦️🖤




◢🟢◤◥🔴◤💝◥🔴◤◥🟢◣
⭐




⬛




⬛ ⬛




⬛🟫⬛




⬛🟫🟫⬛




⬛🟫🟧🟫⬛




⬛🟫🟧🟧🟫⬛




⭐⬛🟫🟧🟨🟧🟫⬛⭐




⬛🟫🟧🟧🟫⬛




⬛🟫🟧🟫⬛




⬛🟫🟫⬛




⬛🟫⬛




⬛ ⬛




⬛




⭐
◢♦️◣




◥◤




♦️❖♦️




╱◣♦️◢╲




◥▔◣◣◈◢◢▔◤




♦️♦️ ★Bindass★♦️♦️




◢▂◥◤◈◥◥▂◣




◢◤♦️◥◣




◥◤




♦️◣★◢♦️




◥♦️◤
🌺




●⬤⚫⬤●




●⬤⚫⬤●●⬤⚫⬤●




⟣⃟⸻🍀⸻⃟⟢




,

•'"'•

,

•'"'•

,




'•

,

`

 💙 

`

 •'




`

'•

,,

•'

`




⟣⃟⸻🍀⸻⃟⟢




●⬤⚫⬤●●⬤⚫⬤●




●⬤⚫⬤●




🌺
♦️━━•❣️•━━♦️




✮┼✮




██✮┼✮♦️✮┼✮██




✮┼┼✮




♦️━━•❣️•━━♦️




✮┼┼✮




██✮┼✮♦️✮┼✮██




✮┼✮




♦️━━•❣️•━━♦️
Vip Account Facebook Bio
◢◣❥❥━──➸➽




◢◤🖤◥◣




◥◣🖤◢◤




╔══❤️══╗




♥️LOVE ♥️




╚══❤️══╝




◢◤🖤◥◣




◥◣🖤◢◤




◥◤❥❥━──➸➽
██✮┼✮♦️✮┼✮██




♦❖♥❖♦




♦




♦❖♥❖♦❖♥❖♦




💙KiNg💙




♦❖♥❖♦❖♥❖♦




♦




♦❖♥❖♦




██✮┼✮♦️✮┼✮██
🖤




🖤⭕🖤




꧁➖🖤⭕🖤➖꧂




꧁➖⭕♠️⭕➖꧂




꧁➖🖤⭕🖤➖꧂




꧁➖🖤⭕🖤➖꧂




꧁➖⭕♠️⭕➖꧂




꧁➖🖤⭕🖤➖꧂




🖤⭕🖤




🖤
⚫💯Official account🔐




⚫📷Photography📷




⚫😘Dlsr lover📷




⚫🚲Ktm lover⚡




⚫😍Hooka lover💜




⚫👖Fashion lover👈
👉phôtøgrãphy lôver📷📷




⏩gùjjû bøy😎




🎮Gâmêr🎮




👦Eñgîñêêrîng stûdèñt😎




😀Àttîtûdê bøy😈




😋Pîzzâhôlic🍕




🎊Wish òn 

21

 Ôçtobar🎂
◢▟😈▙◣




◥▛⛓▜◤




▓⭕▓




▓⭕▓




▓⭕▓




▓⭕▓




◢▟⛓▙◣




◢▟▒▓🔻▓▒▙◣




◢▟▒▓⭕◣♦◢⭕▓▒▙◣




◥▜▒▓⭕◤♦◥⭕▓▒▛◤




◥▜▒▓♦▓▒▛◤




◥♦♦♦◤




♦♦




♦
◥██◤




██




██




◢██◣




⫷▓▓▓(👑)▓▓▓⫸




◥██◤




◥🔷




◥🔷◤




◥🔷◤




◥🔷◤




◥🔷◤




◥🔷◤




◥🔷◤




◥◤
☸☸☸☸☸☸




█☸




███☸




█████☸




███████☸




████████❤




████🖤████♦




███████♦




█████♦️




███♦




██🎲




☸☸☸☸☸☸
█║▌│█│║▌V

.

I

.

P Account ©




👑Charming Prince👑




Shiv Bhakt 🚩




🎁Gift 

4

 me 

1

_

 July




🎸Guitar




🕺Dancing




📸Photoshoot
Facebook Stylish Bio
💠═══█♦️█═══💠




◢💠◣




◢💠◣◢💠◣




╔━━✦✦🖤✦✦━━╗




💙 ✦✦❤✦✦✦💙




╚━━✦✦🖤✦✦━━╝




◥💠▇👑▇💠◤




◥💠💠◤




◥◤




💠═══█♦️█═══💠
♦️🖤♦️🧡♦️🖤♦️




♦️🖤♦️🎃♦️🖤♦️




♦️🖤♦️🧡♦️🖤♦️




♦️🖤♦️🧡♦️🖤♦️




♦️🖤♦️😈♦️🖤♦️




♦️🖤♦️🧡♦️🖤♦️




♦️🖤♦️🎃♦️🖤♦️




♦️🖤♦️🧡♦️🖤♦️
✦✖✦❚✦✖✦




♦❚♦




✦✗✦❚❚🔘❚❚✦✗✦




♦❚❚🎶🎵🎶❚❚♦




✦✗✦❚❚🎸❚❚✦✗✦




♦❚❚🎶🎵🎶❚❚♦




✦✗✦❚❚🔘❚❚✦✗✦




♦❚♦




✦✖✦❚✦✖✦
◥◣◥◣★◢◤◢◤




◥▔◣◢☬◣◈◢☬◣◢▔◤




❖─❥💙❥─❖




╔━━❖❖☬❖❖━━╗




◆❖☬❉JOkEr❉❖☬◆




╚━━❖❖☬❖❖━━╝




❖─❥💙❥─❖




◢▂◤◥☬◤◈◥☬◤◥▂◣




◥◣◥◣★◢◤◢◤
🖤🖤❖♥️❖🖤🖤




❤️❖❤️




╔━━❖❖♥❖❖━━╗




⭕KiNg is here⭕




╚━━❖❖♥❖❖━━╝




❤️❖❤️




🖤🖤❖♥️❖🖤🖤
▦═══███████████




███═══▦




╔━━❖❖❁❖❖━━╗




╠━✫✫━❥Kamina Boy■




━✫✫━╣




╚━━❖❖❁❖❖━━╝




▦═══███████████




███═══▦
◢███◣◢███◣




♦️█████💓█████♦️




♦️█████💓█████♦️




◥♦️████████♦️◤




◥♦️██████♦️◤




◥♦️████♦️◤




◥♦️██♦️◤




◥◤
▇◤▔▔▔▔▔▔▔◥▇




▇▏◥▇◣┊◢▇◤▕▇




▇▏▃▆▅▎▅▆▃▕▇




▇▏╱▔▕▎▔▔╲▕▇




▇◣◣▃▅▎▅▃◢◢▇




▇▇◣◥▅▅▅◤◢▇▇




▇▇▇◣╲▇╱◢▇▇▇




▇▇▇▇◣▇◢▇▇▇▇
Cool Vip Symbols For Facebook Bio
╔☢╗◢🔴◣╔☢╗




💢➖🔴➕🔴➖💢




╚☢╝◥🔴◤╚☢╝




➗☢➗




◢🔴◣




Z➗🔴➕🔴➗Z




◥🔴◤




➗☢➗




╔☢╗◢🔴◣╔☢╗




💢➖🔴➕🔴➖💢




╚☢╝◥🔴◤╚☢╝
❤️




✿🎵✿




꧁🎶◣🎸◢🎶꧂




꧁🎶◣🎸◢🎶꧂




╔━━✦✦🖤✦✦━━╗




💙 Badmash 💙




╚━━✦✦🖤✦✦━━╝




꧁🎶◣🎸◢🎶꧂




꧁🎶◣🎸◢🎶꧂




✿🎵✿




❤️
❤️




✿🎵✿




꧁🎶◣🎸◢🎶꧂




꧁🎶◣🎸◢🎶꧂




╔━━✦✦🖤✦✦━━╗




💙 Badmash 💙




╚━━✦✦🖤✦✦━━╝




꧁🎶◣🎸◢🎶꧂




꧁🎶◣🎸◢🎶꧂




✿🎵✿




❤️
╱╲




│ ۩ │




│ ۩ │




│ ۩ │




│ ۩ │




│ ۩ │




│ ۩ │




│ ۩ │




◢███◣




⫷▓▓▓🔴▓▓▓⫸




◥███◤




██




██




◥█◤
◢◣




◢◤🖤◥◣




◥◣☸◢◤




◥◣◥◣★◢◤◢◤




❖─☸❤️❤️☸─❖




◥▔◣◢☬◣◈◢☬◣◢▔◤




🔷🖤V

.

I

.

P🖤🔷




◢▂◤◥☬◤◈◥☬◤◥▂◣




❖─☸❤️❤️☸─❖




◥◣◥◣★◢◤◢◤




◢◤☸◥◣




◥◣🖤◢◤




◥◤
✺




✺━♡︎✺




✺━♡︎🔸♡︎━✺




✺━♡︎🔸💠🔸♡︎━✺




✺━♡︎ Badboy 🔸♡︎━✺




✺━♡︎🔸💠🔸♡︎━✺




✺━♡︎🔸♡︎━✺




✺━♡︎━✺




✺
💠═══█💜█═══💠




◢💠◣




◢💠◣◢💠◣




◥💠▇▇👑▇▇💠◤




◢♥️Cute Boy♥️◣




◥💠▇👑▇💠◤




◥💠💠◤




◥◤




💠═══█♥️█═══💠
████████




███████




████




███




█




█




━━❖❖❤❖❖━━




《 Badshah 》




━━❖❖♦️❖❖━━




█




█




███




████




██████




█████████
Stylish Bio For FB
◣⊰🖤⊱◢




💕⊰💙⊱💕




⊰💜⊱




⊰❤⊱




⊰💙⊱




⊰🖤⊱




╔═❣️⊰❂⊱❣️═╗




💙💚🖤💜💙




╚═❣️⊰❂⊱❣️═╝




⊰💚⊱




⊰💜⊱




⊰💙⊱




⊰❤⊱




⊰🖤⊱
⟣⃟⸻🖤⸻⃟⟢




⟣⃟⸻❚♥️❚⸻⃟⟢




⟣⃟⸻❚🖤❚⸻⃟⟢




⟣⃟⸻❚💜❚⸻⃟⟢




⟣⃟⸻❚💙❚⸻⃟⟢




⟣⃟⸻❚💚❚⸻⃟⟢




⟣⃟⸻❚💛❚⸻⃟⟢




⟣⃟⸻❚🤎❚⸻⃟⟢




⟣⃟⸻❚💟❚⸻⃟⟢




⟣⃟⸻🖤⸻⃟⟢
🌹




🔥❖💖❖🔥




❥━━❥💙❥━━❥




🧿━━━•🖤•━━━🧿




🔵♦❖♥❖♦🔵




🔵♦🔵




🟣🟣




🔵♦🔵




🔵♦❖♥❖♦🔵




🧿━━━•🖤•━━━🧿




❥━━❥♥️❥━━❥
◢◣




◥❤️◤




❖




╱◣◢╲




◥▔◣❤️◣◈◢❤️◢▔◤




❤️ ★★ ❤️




◢▂◥❤️◤◈◥❤️◥▂◣




◢◤◥◣




◥❤️◤




◣★◢




◥◤
💓✿✿✿




🖤✿✿✿




💓✿✿




🖤✿




✿💓




༒✿🖤




༒✿✿💓




༒✿✿✿🖤




༒✿✿✿💓




༒✿✿🖤




༒✿💓




༒✿
◢ ◣




◥♦◤




◥♦◤




◥♦◤




◥♦◤




◥♦◤




◥♦◤




◥♦◤




◥♠◤




◢☯️◣◢☯️◣◢☯️◣◢☯️◣




◥☯️◤◥☯️◤◥☯️◤◥☯️◤




◥☯️◤




◥☯️◤




◥♣◤




◥◤
◢◣✮◢◣




🔵




█




██




🟢██💜██🔴




◢█◈✮🖤■⚀■🖤✮◈█◣




⫷▓▓▓✴Romeo✴▓▓▓⫸




◥█◈✮🖤■⚀■🖤✮◈█◤




🔵██💙██🔴




██




█




🟡




🔵




◥◤✮◥◤
♦️❖♦️❖♥️❖♦️❖♦️




♦️♦❖❖♦♦️




♦️♦♦️




♦️♦️




♦️




╔━━❖❖♥❖❖━━╗




⭕🖤Rocky🖤⭕




╚━━❖❖♥❖❖━━╝




♦️




♦️♦️




♦️♦♦️




♦️❖♦️❖♥️❖♦️❖♦
New Vip Bio For Facebook Vip Account
◢❗❣◣❗◢❣❗◣




■❗❣❗♥❗❣❗■




◥❗❣❗♥❗❣❗◤




❗◥❗❣❗❣❗◤❗




❣❗◥❗◤❗❣




❣❗❣




❣




❗
◢◤💙██❤️◥◣




██████




☬❣●▬▬

๑

♥️

๑

▬▬●❣☬




꧁➖🧡King🧡➖꧂




☬❣●▬▬

๑

♥️

๑

▬▬●❣☬




██████




◥◣💙██❤️◢◤
✹◢█𖣐◣◢𖣐█◣✹




✹ █𖣐████𖣐█ ✹




✹◥█𖣐██𖣐█◤✹




✹◥█𖣐𖣐█◤✹




✹◥◤✹




✹🔻✹




✹
☬❣●▬▬

๑

♥️

๑

▬▬●❣☬




◆❃◆




❃◆◆❃




◆❃☸❃◆




◆❃◆◆❃◆




◆❃◆◆❃◆




◆❃◆◆❃◆




◆❃◆◆❃◆




◆❃☸❃◆




❃◆◆❃




◆❃◆




☬❣●▬▬

๑

♥️

๑

▬▬●❣☬
💗




💗💗




💗💚💗




💗💚💚💗




💗💚🖤💚💗




💗💚ᶫᵒᵛᵉᵧₒᵤ💚💗




💗💚🖤💚💗




💗💚💚💗




💗💚💗




💗💗




💗
◢♥◣❗◢♥◣




■♥■❗■♥■




◥♥■❗■♥◤




◥♥♥◤




◥◤




❣
🖤💘━━•💝•━━💘🖤




💓🔘━━•💝•━━🔘💓




❖─❥💙❥─❖




╔━━❖❖☬❖❖━━╗




◆❖☬❉BadBoy❉❖☬◆




╚━━❖❖☬❖❖━━╝




❖─❥💙❥─❖




🖤💘━━•💝•━━💘🖤




💓🔘━━•💝•━━🔘💓
Stylish & Vip Bio For Facebook
🖤🖤🖤🖤🖤🖤🖤🖤⇣❥




💚💚💚💚💚💚⇣❥




💙💙💙💙⇣❥




💜💜💜⇣❥




💛💛⇣❥




💜💜💜⇣❥




💙💙💙💙⇣❥




💚💚💚💚💚💚⇣❥




🖤🖤🖤🖤🖤🖤🖤🖤⇣❥
◢◣




◢◤💓◥◣




◥◣💠◢◤




❖ ──💠── ❖




❖─☸💠💓💓💠☸─❖




❖─☸💠💓💓💠☸─❖




❖ ──💠── ❖




◢◤💠◥◣




◥◣💓◢◤




◥◤
◢◣




◢◤◥◣




◥◣◢◤




█




༒◥█◣۩ஐ▚▞ஐ۩◢█◤༒




◥◣◢◤




◈⚀ ★❍Venom❍★⚀◈




◢◤◥◣




༒◥█◣۩ஐ▚▞ஐ۩◢█◤༒




█




◢◤◥◣




◥◣◢◤




◥◤
꧁━•❃💙∆💙❃•━꧂




┊┊┊┊┊┊┊⇣❥




┊┊┊┊┊┊⇣❥




┊┊┊┊┊⇣❥




┊┊┊┊⇣❥




┊┊┊⇣❥




┊┊⇣❥




┊⇣❥




❥




💙
◢♦️◣




😈😈




♦️❖♦️




╱◣★◢╲




◣❖◢




♦️❖★Bad Boy★❖♦️




◤❖◥




◢◤★◥◣




♦️❖♦️




😈😈




♦️
🖤——💞🌹💞——🖤




◥◣♦️ ♦️◢◤




◥◣ ◢◤




◥◤




🖤♥️♥️🖤




😎 Nalayak Munda 😜




🖤♥️♥️🖤




◢◣




◢◤ ◥◣




◢◤ ♦️♦️◥◣




🖤——💞🌹💞——🖤
◢▂◤◥☬◤◈◥☬◤◥▂◣




⚀⚅




☙♦☙




⚀♦♦⚀




☾♦♦♦☙




⚀♦♦♦♦☾




☙♦♦♦♦♦☾




☾♦♦♦♦⚀




⚄♦♦♦⚅




⚅♦♦⚄




☙♦⚀




♦☙




◢▂◤◥☬◤◈◥☬◤◥▂◣
◢▂◤◥☬◤◈◥☬◤◥▂◣




⚀⚅




☙♦☙




⚀♦♦⚀




☾♦♦♦☙




⚀♦♦♦♦☾




☙♦♦♦♦♦☾




☾♦♦♦♦⚀




⚄♦♦♦⚅




⚅♦♦⚄




☙♦⚀




♦☙




◢▂◤◥☬◤◈◥☬◤◥▂◣
Facebook Vip Profile Bio
❖




❖❖




❖🖤❖




❖❖🖤❖❖




♦️​❖♦️❖🖤❖♦️❖♦




╔━━❖❖❖❖━━╗




⭕✌ Cute Boy✌⭕




╚━━❖❖❖❖━━╝




♦️​❖♦️❖🖤❖♦️❖♦




❖❖🖤❖❖




❖🖤❖




❖❖




❖❤
༺⬛♥♥♥♥♥♥♥🟩༻




༺⬛♥♥♥♥♥♥🟩༻




༺⬛♥♥♥♥♥🟩༻




༺⬛♥♥♥♥🟩༻




༺⬛♥♥♥🟩༻




༺⬛♥♥🟩༻




༺⬛♥🟩༻




༺⬛🟩༻




༺🛑༻
◢◤☸◥◣




◥◣❀◢◤




◥◤




╔━━❖❖☬❖❖━━╗




༺♥༻




༺♥༻




༺♥༻




༺♥༻




╚━━❖❖☬❖❖━━╝




◢◣




◢◤🖤◥◣




◥◣🖤◢◤




◥◤
◢◣




◢◤❀◥◣




◥◣☸◢◤




꧁➖♦️🔰♦️➖꧂




꧁➖🔰♦️🔰➖꧂




꧁➖♦️🔰♦️➖꧂




꧁➖♦️🔰♦️➖꧂




꧁➖🔰♦️🔰➖꧂




꧁➖♦️🔰♦️➖꧂




◢◤☸◥◣




◥◣❀◢◤




◥◤
◢◣




✿♦️✿




❖🟢◣💜◢🟢❖




❖🔵◣🖤◢🔵❖




❖🔴◣♥️◢🔴❖




❖🟣◣💚◢🟣❖




❖🟡◣💛◢🟡❖




❖🟠◣🧡◢🟠❖




✿♦️✿




◥◤
❥❥━──➸➽❂❥❥━──➸➽💕




🦋★😘̴😘★🦋




✧🌺✧🌺✧🌺




┊┊┊┊┊┊┊⇣❥




┊┊┊┊┊┊⇣❥




┊┊┊┊┊⇣❥




┊┊┊┊⇣❥




┊┊┊⇣❥




┊┊⇣❥




┊⇣❥




⇣❥




❥❥━──➸➽❂
♦️ ⃢⃟♦️⟖⟗⟕♦️ ⃢⃟♦️




࿇⃝♦️B♦️࿇




࿇⃝♦️A♦️࿇




࿇⃝♦️

D

♦️࿇




࿇⃝♦️B♦️࿇




࿇⃝♦️

O

♦️࿇




࿇⃝♦️Y♦️࿇




♦️ ⃢⃟♦️⟖⟗⟕♦️♦️
♦️




▞♦️▚




▞▞❤▚▚




♦️❍❍❖❍❍♦️




☆☆☆




☆☸☬──▚❤▞ ──☬☸☆




❖─╬Cute Kamina╬─❖




☆☸☬──▚❤▞ ──☬☸☆




☆☆☆




♦️❍❍❖❍❍♦️




▚▚❤▞▞




▚♦️▞




♦️
Stylish Symbols Bio
❣️❣️




✮┼✮




✮┼┼✮




♦️━━•❣️•━━♦️




✮┼✮




✮┼┼✮




♦️━━•❣️•━━♦️




✮┼┼✮




✮┼✮




♦️━━•❣️•━━♦️




✮┼✮




✮┼┼✮
♦️




♦️




◢◤⚔️◥◣




◥◣⚔️◢◤




🔷▇☆☣☆▇🔷




🔶━❖✥👑◈👑✥❖━🔶




💓●💞❤Love U ❤️💞●💓




🔶━❖✥👑◈👑✥❖━🔶




🔷▇☆☣☆▇🔷




◢◤⚔️◥◣




◥◣⚔️◢◤




♦️




♦️
◢ ▇ ◣ ♥️ ◢ ▇ ◣




▇ ▇ ▇ ◣ ◢ ▇ ▇ ▇




◥ ▇ ▇ ▇ ▇ ▇ ▇ ◤




◥ ▇ ▇ ▇ ▇ ◤




◥ ▇ ▇ ◤




◥ ◤
◢💓◣




◢📗◤📕◥📗◣




📘




📕




📘




📘




◢▔◤☬📕💛📕☬◥▔◣




💚☠📕💚💓💚📕☠💚




◥▂◣☬📕💚📕☬◢▂◤




📘




📕




📘




◥📗◣📕◢📗◤




◥💓◤
༒◥▓█◣۩ஐ▚▞ஐ۩◢▓█◤༒




⟣⃟⸻⚀▞༻༺▞⚀⸻⃟⟢




༒◥▓█◣ ᏦᎥᏁᎶ◢▓█◤༒




⟣⃟⸻⚀▞༻༺▞⚀⸻⃟⟢




༒◥▓█◣۩ஐ▚▞ஐ۩◢▓█◤༒
☬━━━♗・🖤・♗━━☬━




🗼☔ •

-

💡

-

•⟮ ♦ ⟯•

-

💡

-

• ☔🗼




🔵♦♦♦🔵




♦♦




❢♦❢




♦




🗼♦🗼




♦




╭────╯⫷🖤⫸╰────╮




❖─♡️⏤͟͟͞͞★Ziddi Dilꗄ♡️─❖
💠💠💠💠💠




💠💠💠💠




💠💠💠




💠💠




💠




🧡🖤Badmash🖤🧡




💠




💠💠




💠💠💠




💠💠💠💠




💠💠💠💠💠
You may also like: